Flannel Fairies Wall Artwork
Westhead Rocks at Palm Beach Luxury Residence
This 3 metre by 1 metre triptych of the stunning rocks at West Head in Sydney looks incredible next to this raw concrete bench top in Palm Beach.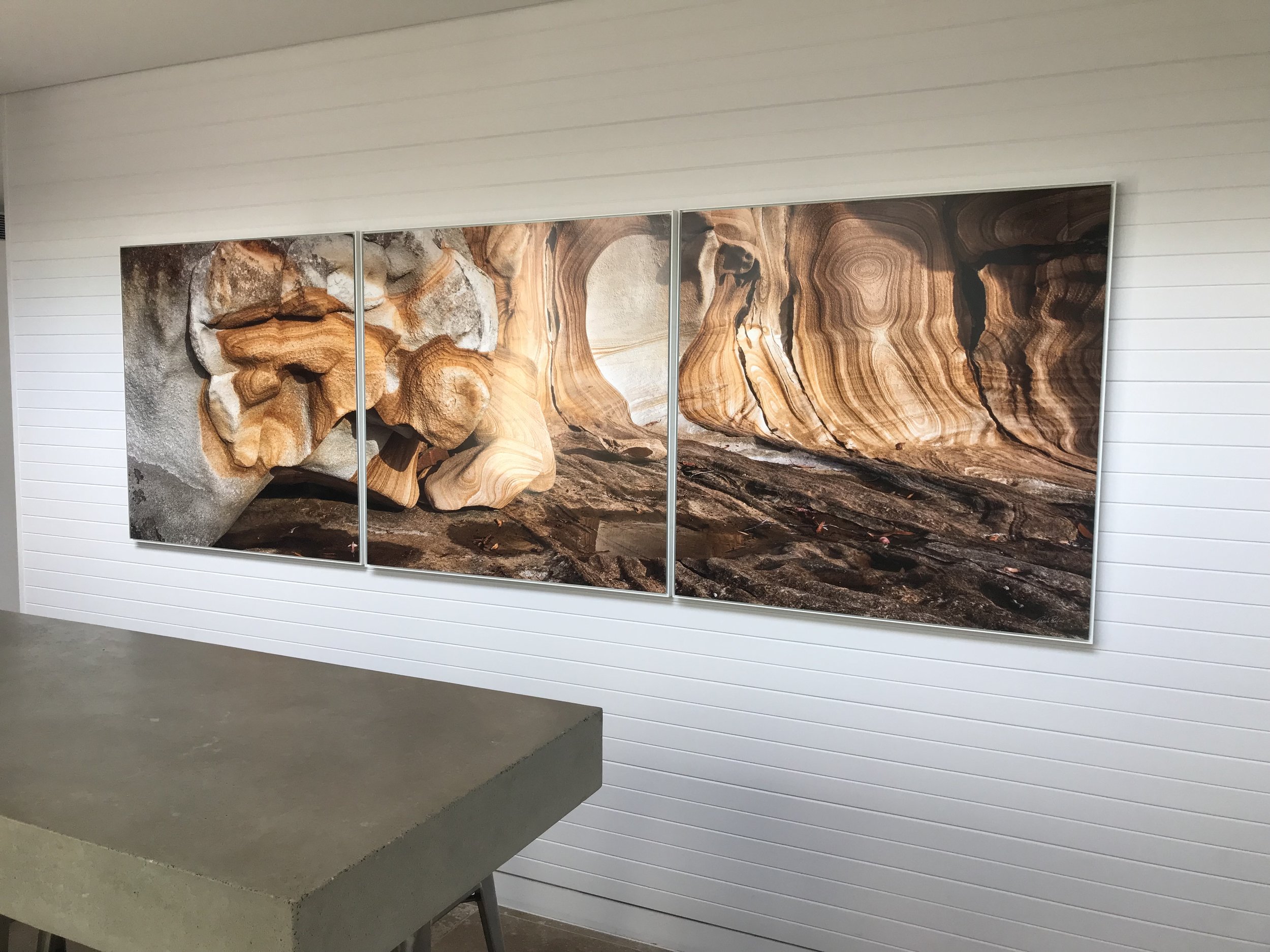 The Rocks at West Head
This 3 metre by 1 metre triptych of the stunning rocks at West Head in Sydney looks incredible next to this raw concrete bench top in Palm Beach.
"Connected" at High Point Market, North Carolina
One of my Limited Edition Prints of "Connected" was on display at the 2017 High Point Market in North Carolina for Bungalow Classics, a home furnishings shop in Atlanta. This is the largest Home Furnishings Trade Fair in the World. Looks fantastic with the elephant motif lounge.
Flannel Flowers and Paper Daisies
At 40"x40" each, these artworks sit nicely together on this feature wall. The deep floating frame makes the artworks pop.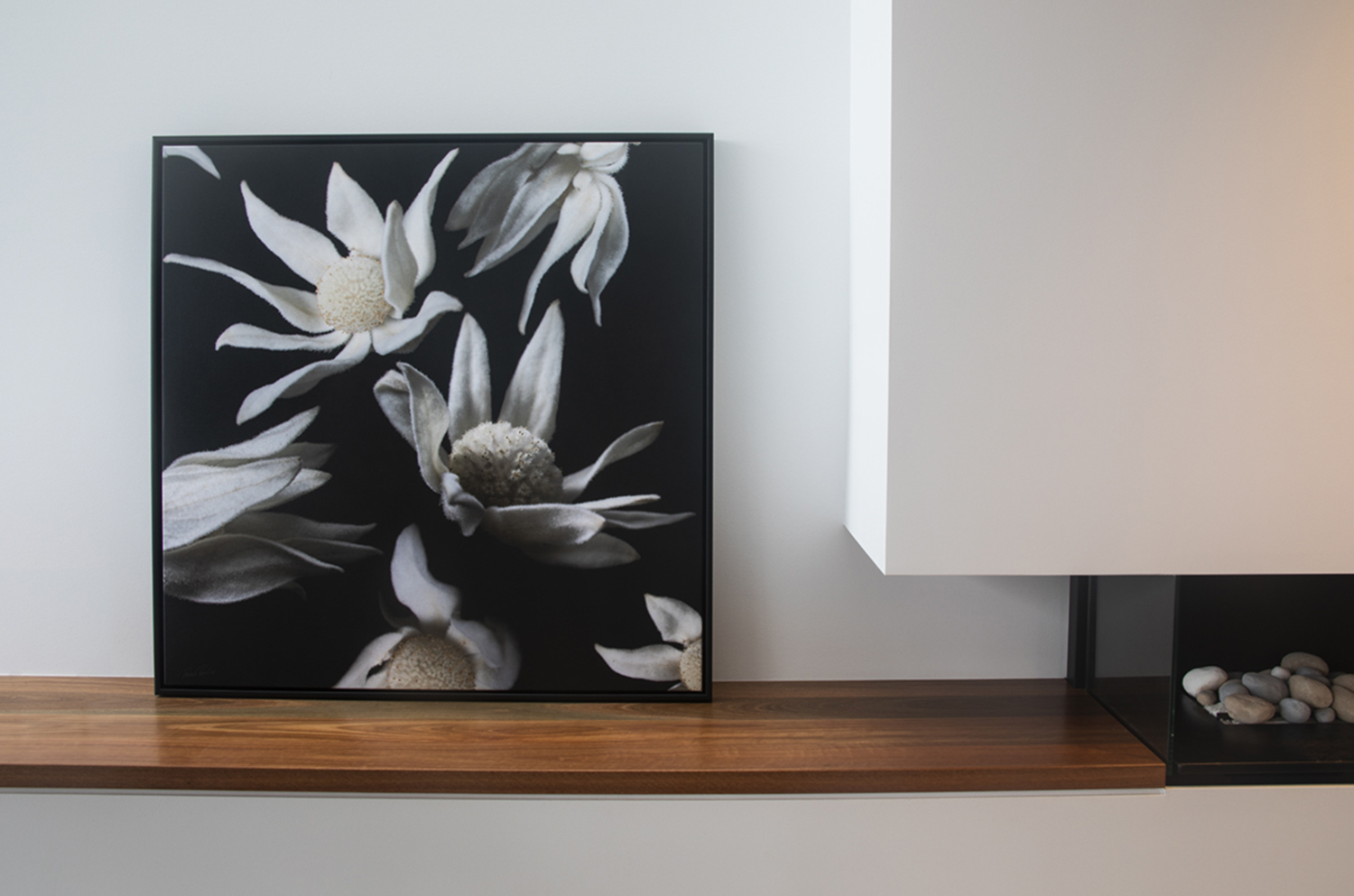 Flannel Flowers with 3 inch Deep Floating Box Frame
To be exhibited at The Other Art Fair in Sydney in March 2019.
Paper Daisies
Paper Daisies at 40"x 40" in a Floating Box Frame.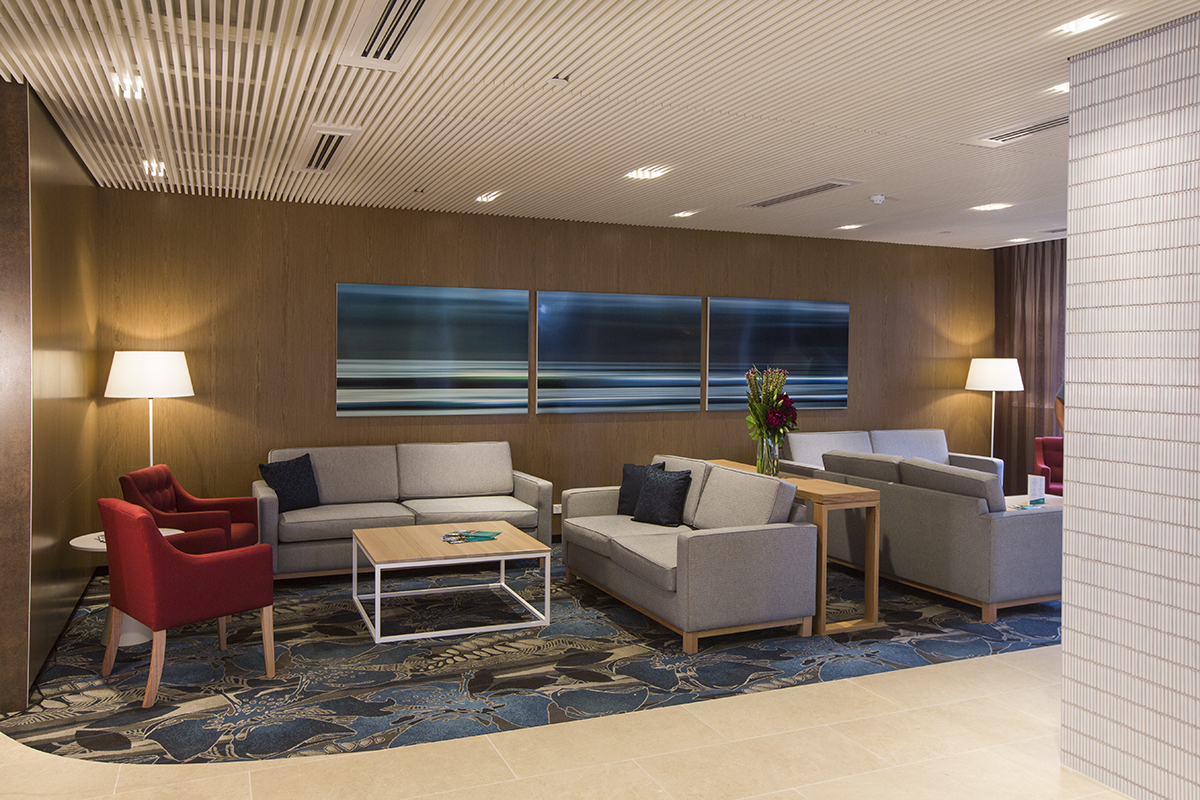 Translucence Triptych at Arcadia Pittwater Private Hospital
"Translucence" looks fantastic on metal at the Arcadia Pittwater Private Hospital in Warriewood. Opening February 2018.
Kookaburra Sits with Peter Frampton
Peter Frampton picked up my "Kookaburra Sits" during my Nashville 2016 exhibition. Here it is as a backdrop for his August 2016 interview with Nashville Arts Magazine. Thank you Peter.
"Flint and Steel" Triptych in Dining Room
This triptych of the rocks at Flint and Steel Beach at West Head in Pittwater, put the patients and visitors at the Pittwater Private Hospital in touch with nature.
Rocks 1
My Rocks 1 at 3 M x 1 M sits comfortably on this wall above the stone gas fireplace.
Fly Away
40"x40" Fine Art Print on Metal, creating a sleek and modern look. Without glass, there is very little reflection, perfect for an office space.
The Art of Stone
The Art of Stone works are a real standout with their 3 inch deep floating frame.
The Southern Live Oak Tree
Against a textured wall, this Acrylic Face Mount brings this very old tree into the modern era.
Impending
Master Limited Edition of 5 @ 60"x32" (152 cm x 81 cm)
Brumbies in the Snowy Mountains
Loved when my Client from Norway sent me this photo of their "Brumbies in the Snowy Mountains" print. The weather outside seems to match perfectly!
Winter
New Release Limited Edition Artwork entitled "Winter". Under Acrylic, at 120 cm x 80 cm, the image looks amazing on the wall.
Taken on the 2nd day of Winter 2017.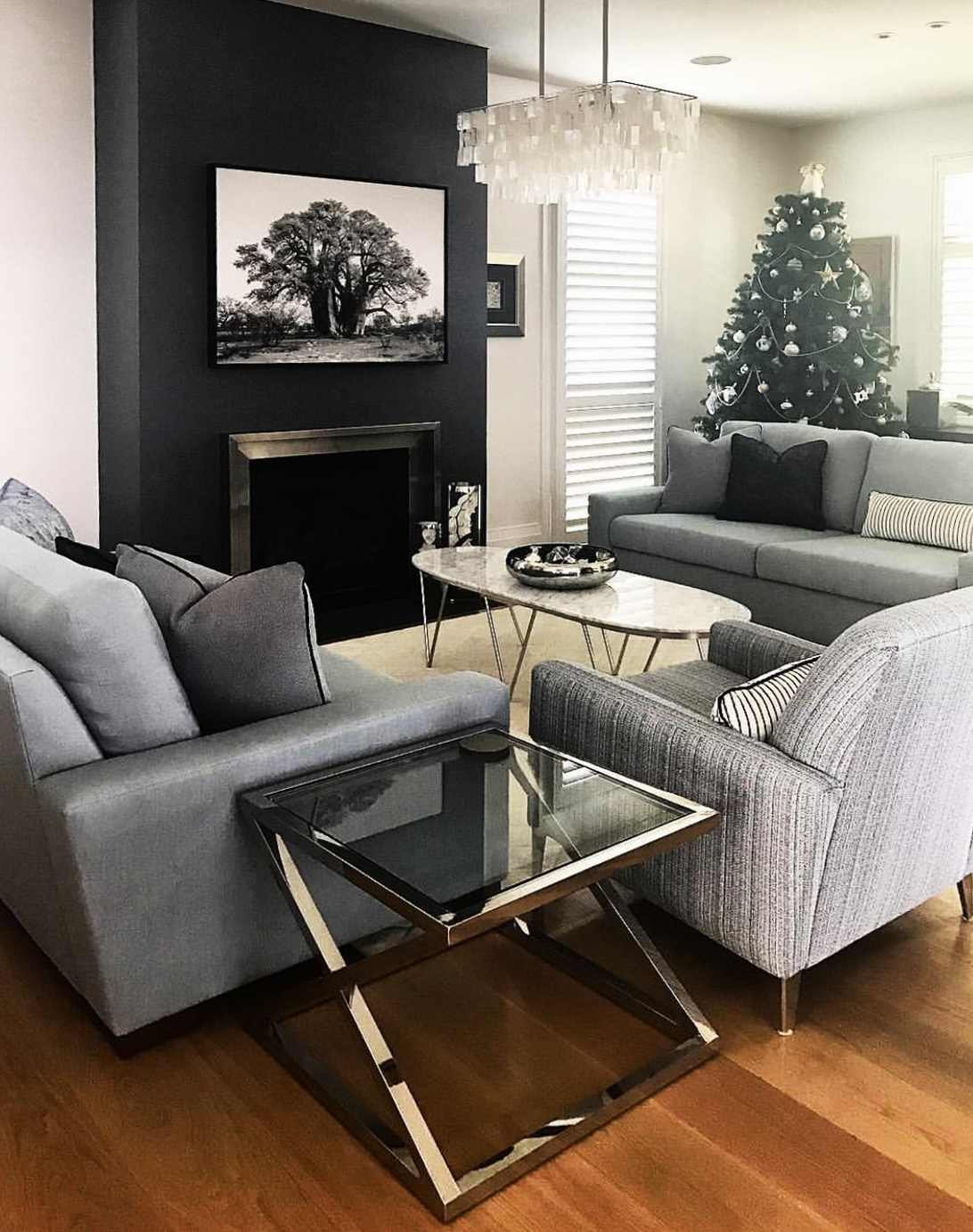 Chapman's Baobab
This black and white canvas of Chapman's Baobab of Botswana lives in a modern Mosman home. The Canvas is surrounded by a fine black floating frame, making the image "pop".
Lone Tree and Cheetah
Limited Edition Print at 101 cm x 101 cm.
Seat with a View
At 125 cm x 125 cm, "Seat with a View" steals the show in any room. This image, taken at the Mona Vale Headland on the Northern Beaches of Sydney, was selected for the 2017 Bureau of Meteorology Calendar.
 
Sail Away
This 5 foot by 5 foot print of Sail Away sits in an office in Nashville, Tennessee. This piece of work formed part of a recent exhibition in Nashville curated by Garden Variety Design.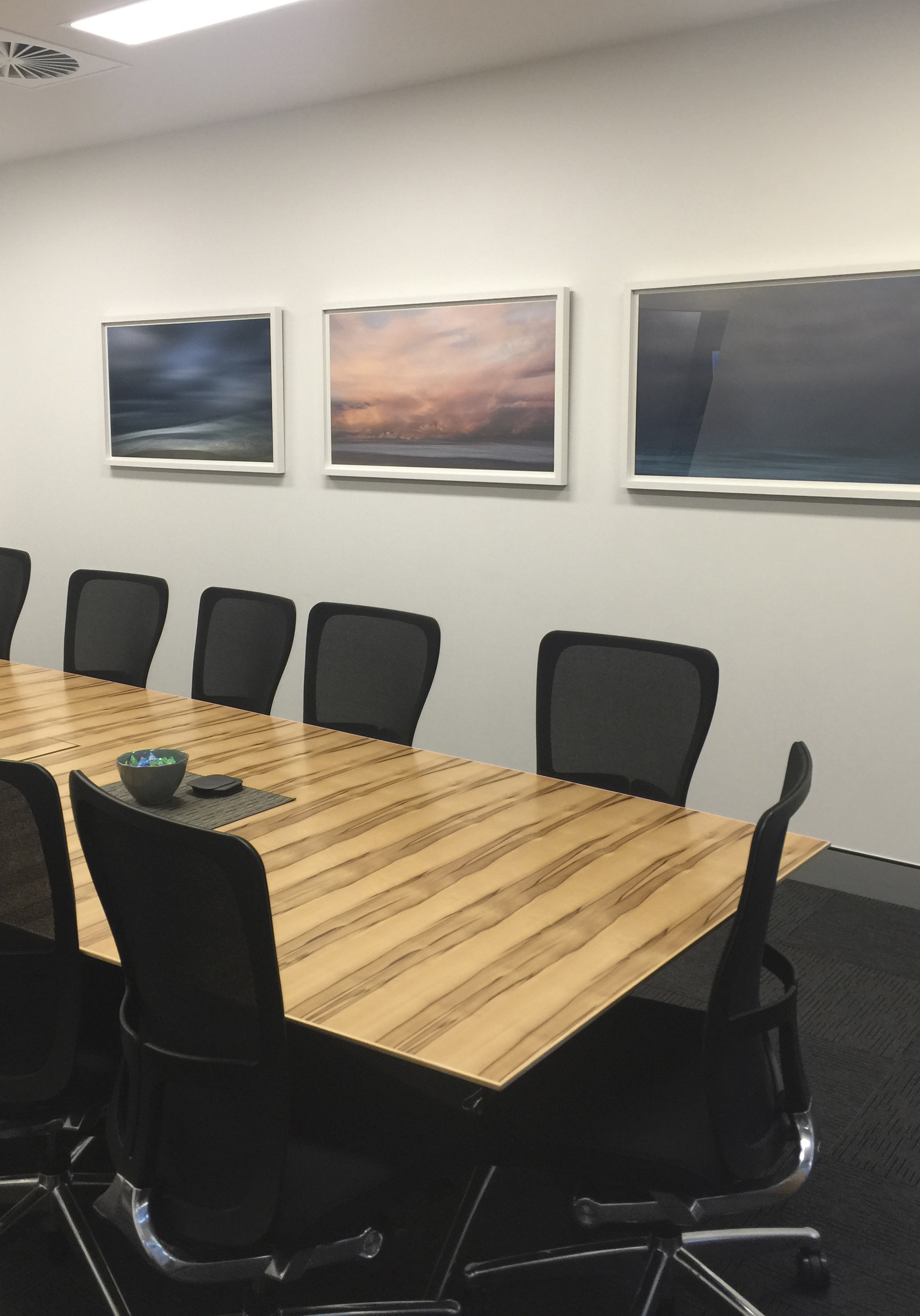 Boardroom Calm
Three Limited Edition prints installed in a Canberra Office 2017 provide a sense of calm in the boardroom.
Sail Away
"Sail Away" exhibited at Garden Variety Design in Nashville.
Wild World and Shades of Grey
These two prints are hanging in a beautiful home in Killara on the Northern Beaches of Sydney, sourced by Lynne Bradley Interiors for the client. These two images are limited edition of 7.
Image taken by Craig Wall.
"Green with Envy"
This Artwork matches the lifestyle..
Wild World.
Master Edition of Wild World 30"x30" print on 36"x36" Fine Art Cotton Rag, framed in White.
Insomnia
Master Edition of 10 @ 30 in by 30 in on 36 in x 36 in Fine Art Paper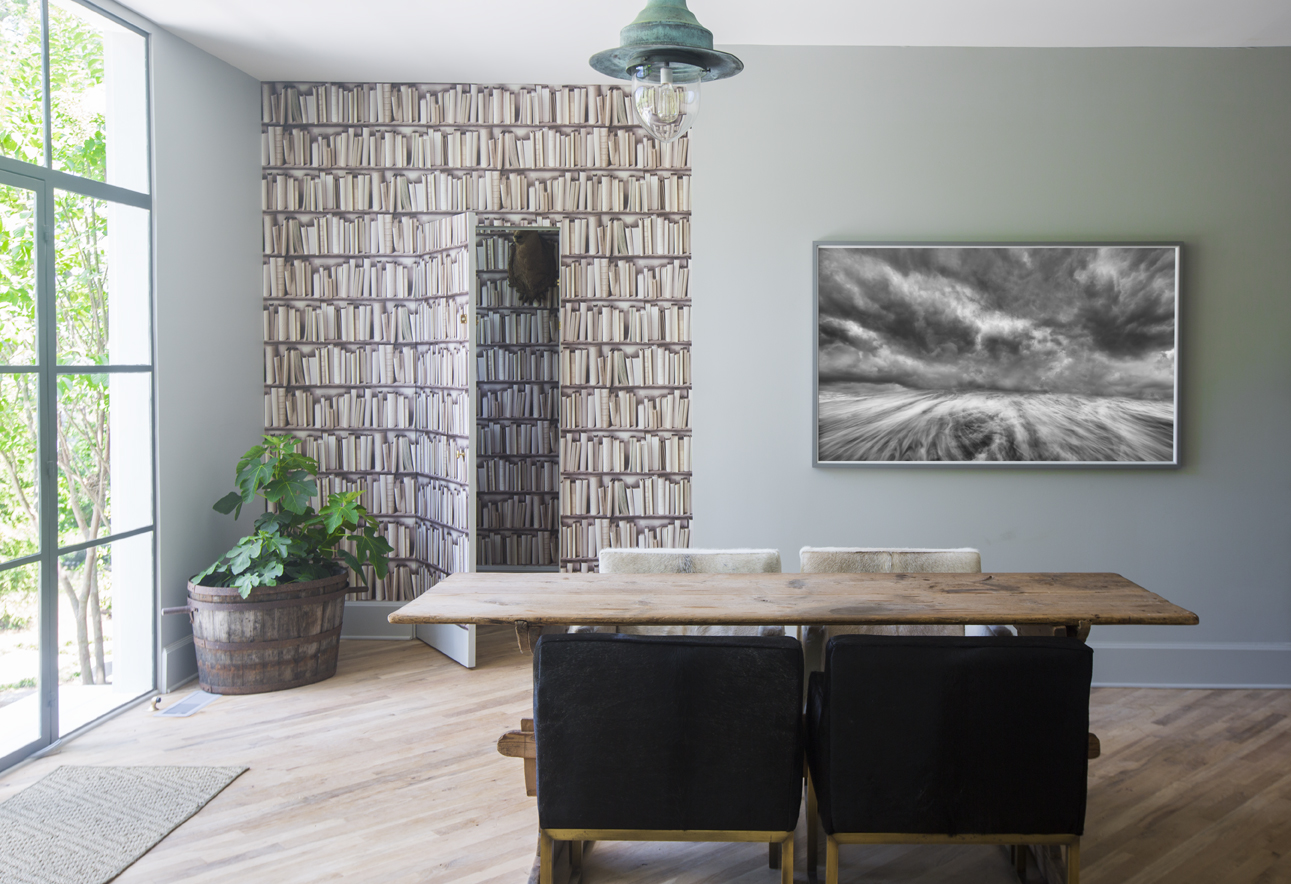 Turmoil
My 5 feet by 3 three feet image entitled "Turmoil" lives in the Garden Variety Design studio in Nashville, Tennessee.
Connected
"Connected", a Limited Edition Print, forms part of a new renovation in Lane Cove. Perfect colour palate to show off this image.
Geometrics or Indigo Slam
Forming part of my "City and Surf" series, this image entitled "Geometrics" features the new "Indigo Slam" private residence in Chippendale, NSW. It's sculptural qualities made for an intriguing Fine Art Image of beautiful Sydney Architecture. Architect: William Smart..
The framed print now lives at my client's ultra-modern converted warehouse home in McMahon's Point.
Mistry
Mistry is the perfect monotone theme for this bedroom in North Adelaide.
Complicated
My image entitled Complicated features prominently in the Garden Variety Design studio in Nashville, Tennessee.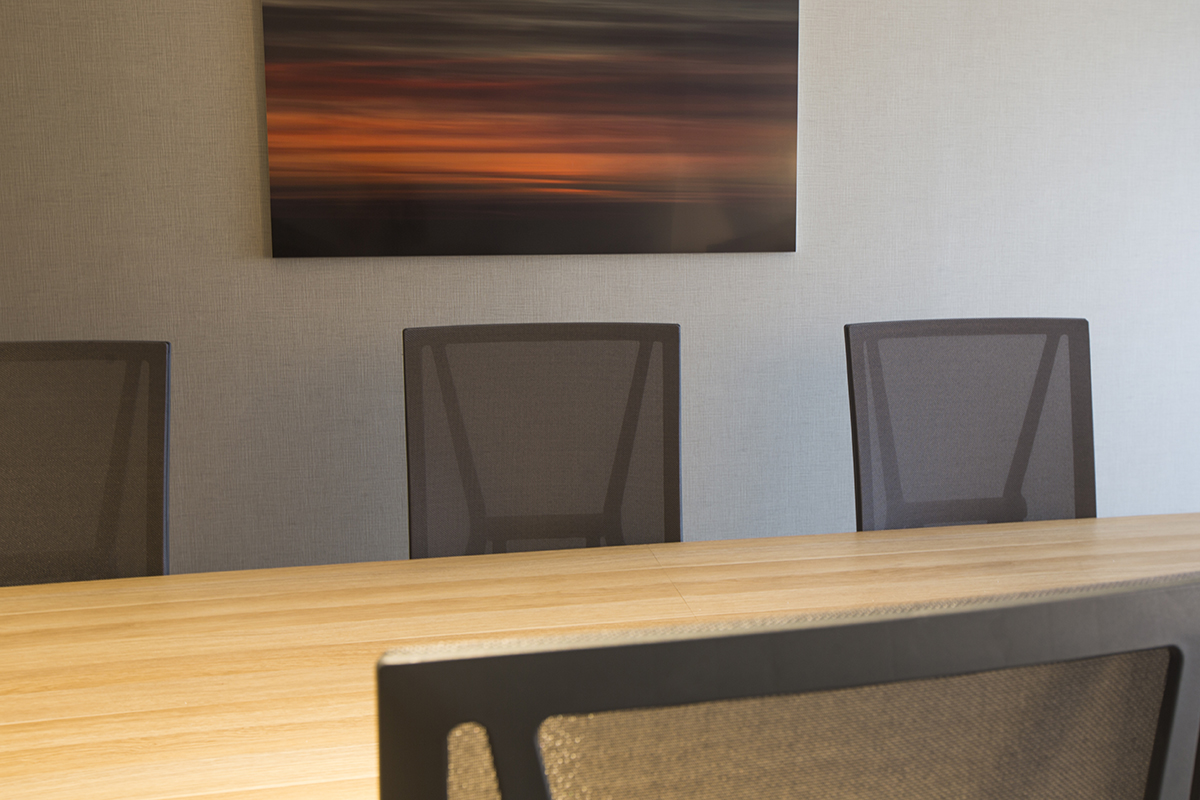 "Metallic" in Conference Room
This metal print entitled "Metallic" gives this conference room a modern lift in 2018.
Private Residence, New Delhi, India
Having lived and worked in India for three years, I was lucky to share my artwork there. I have a broad collection of India based photography and photo art. Contact me to discuss.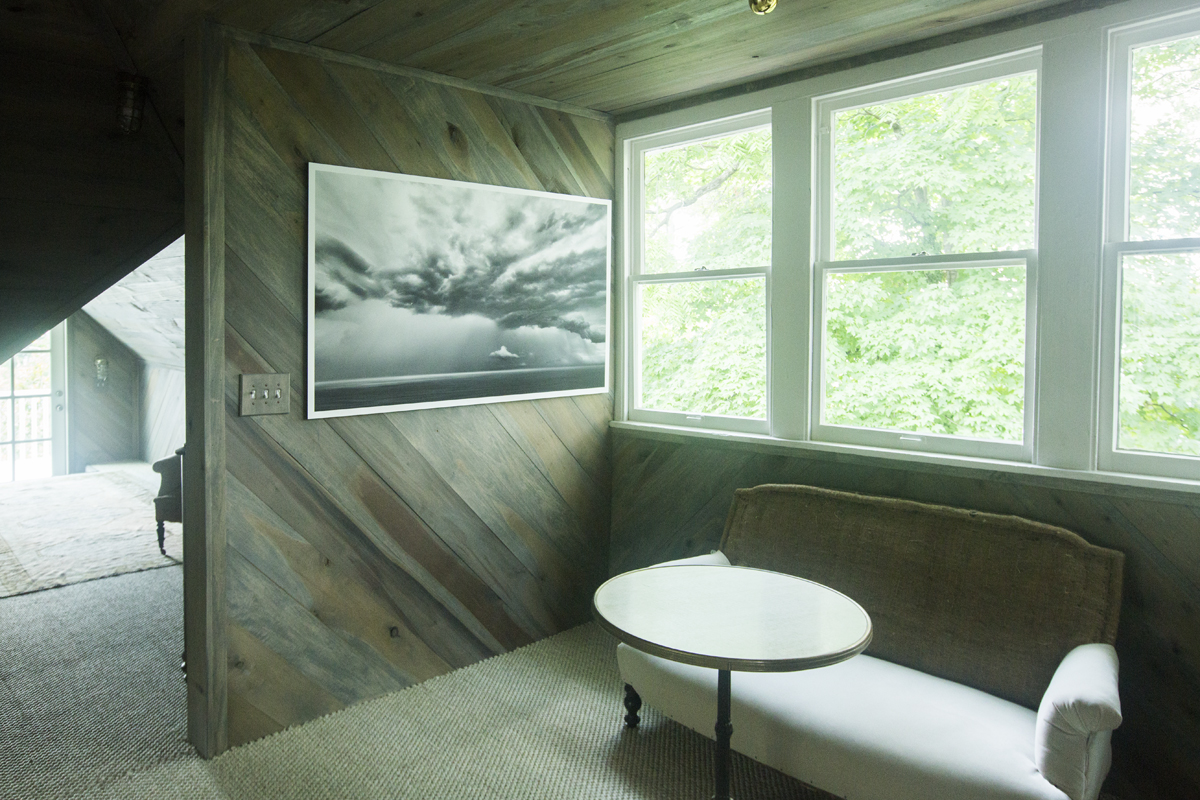 Breakaway
This image features in a remodelled studio in Nashville, Tennessee.